ALIEN FROM L.A.
de Albert Pyun, 1988 [EUA]
☻
TRAILER
De Albert Pyun («The Sword and the Sorcerer», «
Cyborg
») já se sabe que podemos esperar o melhor e o pior. Este é, infelizmente, um dos exemplos menos interessantes. Trata-se de um misto de comédia juvenil e
sci-fi
B (por ali entre «Journey to the Center of the Earth», «Wizard of Oz» e «Mad Max»), narrando a história de uma rapariguinha californiana que se mete numa insólita aventura passada no centro da Terra, onde uma civilização futurista e violenta reina em paralelo. Como de costume, Pyun aplica-se nos visuais (o realizador é mestre em tornar meia dúzia de tostões enferrujados em algo com muito bom aspecto), mas muitas vezes o resultado plástico é apenas confuso, parecendo uma colecção de tiques de telediscos dos anos 80. Pior estamos a nível de argumento, sinuoso e imperceptível, e a história vai-se vendo, arrastada e sem motivações para as personagens. Resta o charme
kitsch
deste tipo de projectos, porque, é sabido, já não se fazem filmes assim.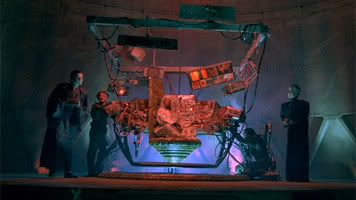 (Edição região 1 da Midnite Movies, em versão simples ou em dose dupla com o filme «Morons from Outer Space. Ambas têm legendas em inglês e são fullscreen. A segunda sai mais em conta.)