MONKEY SHINES

de Goerge A. Romero, 1988 [EUA]
☻☻☻☻
TRAILER
Agora que o ano está a chegar ao fim e que «Land of the Dead» se começa a sentar confortavelmente na minha lista de favoritos de 2005, sabe bem reencontrar «Monkey Shines», outro título de George Romero, editado por cá recentemente pela LNK. Apesar de ter dado nas vistas à data de estreia (chegou mesmo a levar para casa o Grande Prémio do Fantasporto em 1989), há quem o considere obra menor na carreira do autor de «Dawn of the Dead» e «Martin», uma espécie de "curiosidade" apenas vagamente recomendável a completistas. Uma injustiça terrível, acredite quem quiser.
«Monkey Shines», que conta a história de um tetraplégico e da sua funesta relação com uma macaca treinada para o ajudar nas mais variadas tarefas domésticas, é um prodígio de suspense e encenação, um filme "clássico" na forma como assume uma estrutura convencional para melhor trabalhar os corredores do medo. Isto tudo pela forma como Romero trabalha as especificidades de cada personagem, desenhando as emoções com a habilidade de um relojoeiro e tratando o crescendo dramático com um rigor como já poucos o sabem fazer. É um filme perfeito e meticuloso, talvez por isso demasiado discreto para quem de Romero apenas quer o
gore
ou a subversão política da sua cinematografia
zombie
. Por isso também, um filme a acarinhar e a ganhar lugar cativo no topo da lista das suas aventuras mais arrojadas.
À semelhança das edições em DVD que já conhecíamos lá de fora, «Monkey Shines» chega-nos sem qualquer tipo de extra. A versão nacional carrega ainda consigo o mesmo disparatado título («Atracção Diabólica») com que o filme foi baptizado no final dos anos 80, infeliz adaptação que remeteu uma obra singular para o poço da série B dos clubes de vídeo de então.
[Texto editado a partir do original publicado na revista DIF, número 34, Dezembro de 2005.]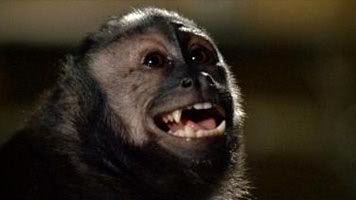 (Para além da versão nacional, aqui ficam os links para a edição inglesa e para a americana, em tudo semelhantes, excepto no preço e legendagem.)