CQ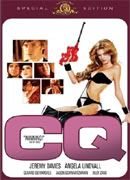 de Roman Coppola, 2001 [EUA]
☻☻
SITE OFICIAL
Paris, 1969. Paul é um jovem realizador americano, adepto do
cinéma vérité
, que se encontra na capital francesa para rodar o filme da sua vida. O acaso intervém, e acaba por ser chamado para finalizar uma fita de ficção-científica
très kitsch
, que tem como personagem principal a deslumbrante Dragonfly.
O fascínio pelo
euro-trash
é evidente logo desde os primeiros minutos de CQ - leia-se "seek you" -, longa-metragem de estreia de Roman Coppola, filho de Francis e irmão de Sofia. Dragonfly podia ser Barbarella, Paul um émulo afectado de Roger Vadim ou Mario Bava («Danger: Diabolik» e «Planet of the Vampires» são repescados a torto e a direito), entre tantas outras referências a esse tipo de contra-cultura pop de finais de 60 (até John Phillip Law aparece aqui!). É um deleite visual, tão nostálgico quanto irónico, mas que, à falta de melhor ideia, se apresenta como um jogo de trivia cinéfilo entre amigos para um sábado à noite. Essa é a sua maior limitação, mas não o único defeito: a premissa do filme dentro do filme – no fundo, como usar o meio cinematográfico para reflectir as instabilidades da sua própria criação – é pura
bubblegum
, mas daquela que perde o sabor ao fim de cinco minutos. E Jeremy Davies, propositadamente (será?) apagado, não oferece a profundidade dramática que se exigia a uma personagem tão receosa da sua validade artística. Atenção entusiastas de Air, Rob e Sebastien Tellier: a banda sonora, assinada pelos Mellow, assemelha-se, e de que maneira, à de «Virgin Suicides». Vicissitudes da proximidade familiar?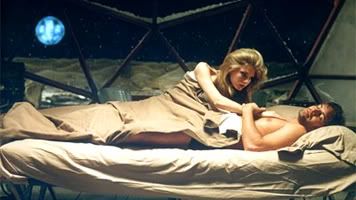 [Texto editado a partir do original publicado na revista DVD Review, número 31, Maio de 2004.]

(Há uma edição nacional, pela Atalanta, que se costuma encontrar facilmente e a preço simpático. É certamente preferível à versão norte-americana, pelo menos no que toca ao número de extras. De qualquer forma, aqui fica o link para a versão de região 1.)