BLOOD FEAST FAZ ANOS
A malta da
Film Ranch
pediu-me para divulgar isto. Mais que não seja para nos fazer inveja, cá vai. Ou até pode ser que algum leitor se encontre por aqueles lados. Seja como for, isto do 45º aniversário do «Blood Feast» vai ser a festa do ano. Bastardos.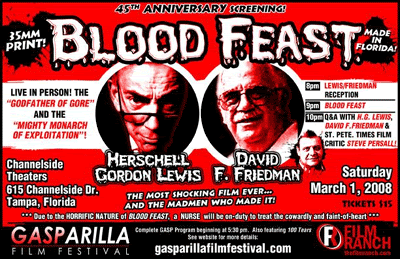 FILM RANCH INTERNATIONAL
presents
The
45th Anniversary
of the Granddaddy of all slasher movies!
BLOOD FEAST
to carve up the GASParilla Film Festival in Tampa Florida!
RARE SPECIAL APPEARANCE by titans of terror
HERSCHELL GORDON LEWIS
and
DAVID F. FRIEDMAN
! LIVE IN PERSON!
Guest Hosted by St. Petersburg Times film critic STEVE PERSALL!
An URGENT message from FILM RANCH INTERNATIONAL:
Before JASON... before FREDDY... before MICHAEL MYERS... there was one movie maniac to rule them all: FUAD RAMSES, splatterstar of the notorious 1963 hit BLOOD FEAST - the first film ever to showcase explicit gore! Cringe in gut-crunching horror as Fuad, an insanely obsessive Egyptian caterer, stalks sexy sirens for a sacrificial blood offering to blasphemous goddess Ishtar! Presented in crimson-soaked 35mm!
Special Guests of this once-in-a-lifetime event include BLOOD FEAST director HERSCHELL GORDON LEWIS (the Godfather of Gore) and producer DAVID F. FRIEDMAN (The Mighty Monarch of Exploitation). Enjoy a casual outdoor reception (weather-permitting) with these living legends, followed by an insightful Q & A session, hosted by popular film critic STEVE PERSALL of the St. Petersburg Times - if he survives! This is one event that NO horror fan should miss!
Not everyone is thrilled to death about the triumphant screening. «I remember when BLOOD FEAST terrorized movie screens back in the Lord's year of '63», says Rev. Milford Crabtree. «This film paralyzed the city. We've never been the same since! Tongue-ripping, limb-severing, machete-hacking - I tell you BLOOD FEAST left our youth population in mental ruin and turned them into a doom generation of hippie psychos!» he blasts.
Rev. Crabtree is leading an effort to convince movie fans not to indulge in the gory and sexy debauchery of BLOOD FEAST. «It's downright disgusting - voluptuous blondes and busty brunettes attacked by a machete-wielding madman! I mean, what kind of a diseased mind comes up with this ultra-violent freak-flick?»
In parting, Rev. Crabtree issued a final statement: «BY GOLLY, I ORDER EACH AND EVERY ONE OF YOU NOT TO SEE BLOOD FEAST...OR ELSE!»
Good citizens of Tampa Bay and across America, show your support of BLOOD FEAST and help put Rev. Crabtree in his place. If you have the GUTS. A nurse will be on duty at the box office…not as an advertising gimmick, but because she may very well be needed to resuscitate collapsed ticket holders. Due to the extreme horror of this picture, FILM RANCH INTERNATIONAL sincerely warns people who are the least bit squeamish or have a heart condition to not attempt to see this picture. See this movie if ou dare, but be prepared for unimaginable horror. For package ticket-holders, BLOOD FEAST will be followed by another made-in-Florida grisly shocker: «100 TEARS».
Don't miss it!
Saturday, March 1, 2008
8:00 pm - Reception with H.G. Lewis and David F. Friedman
9:00 pm – «BLOOD FEAST»
10:20pm - Q&A with H.G. LEWIS, DAVID F. FRIEDMAN and STEVE PERSALL
Tickets: $15.00 - includes all events outlined above. Screening of «100 TEARS» requires separate admission.
Location: Channelside Theaters, 615 Channelside Drive, Tampa, Florida
http://www.gasparillafilmfestival.com/
http://www.thefilmranch.com/