JEEPERS CREEPERS

de Victor Salva, 2001 [EUA]
☻☻☻☻☻
SITE OFICIAL
Victor Salva podia ser unanimemente reconhecido como um dos mais interessantes e originais nomes a trabalhar no cinema fantástico nos últimos vinte anos, não fosse um crime pedófilo - em 1987 envolveu-se sexualmente com um actor menor de idade com o qual trabalhava - ter gerado uma continuada onda de controvérsia em torno da sua figura. Perdoem-me o sensacionalismo, mas parece-me importante recordar o facto para melhor entender o seu «Jeepers Creepers», brilhante exemplo do moderno cinema de terror e também reflexão sobre o monstro em que Salva se tornou perante os olhos do público.
Dois irmãos adolescentes (Justin Long e Gina Philips) percorrem o interior rural norte-americano ao regressar a casa após o final das aulas, quando tropeçam nos estranhos rituais de uma misteriosa criatura, que, a partir de então, não mais os largará da mão. O estranho ser é de início retratado como um velho andrajoso e, progressivamente, vai revelando novas e sobrenaturais características, como que acumulando na carne os pecados provocados pela total ausência de consciência. Os crimes do "Creeper" têm óbvias conotações sexuais - ele selecciona as suas vítimas através do cheiro -, havendo até duas sequências chocantes que parecem aludir a práticas de sodomia. As vítimas femininas são rapidamente despachadas (não "interessam") e a homossexualidade latente tem a sua revelação máxima no momento em que o monstro decepa um polícia e o beija prolongadamente. Tudo isto - e muito mais, que não revelo para não estragar os vários elementos de surpresa do filme - não poderá deixar de remeter para o crime de Salva, que parece autoretratar-se através da imparável criatura. E, também por isso, o final é tão perturbador, provando que este tipo de viagem não tem regresso (leia-se perdão) possível.
O mais fascinante num filme de cariz tão polémico e pessoal é que a fita resulta muitíssimo bem como puro exercício de terror. Aquele que é uma das melhores exemplos do género a sair de Hollywood em vários anos é uma homenagem assumida aos
monster movies
da Universal, filtrada através de uma sensibilidade moderna (mas nunca pós-moderna e autoparódica), que é sempre apaixonadamente cinéfila. Atente-se nas semelhanças físicas do bicharoco com o monstro de «Creature from the Black Lagoon», ou da sua fatiota, que relembra a de Lon Chaney em «Phantom of the Opera». A homenagem estende-se até outros clássicos mais recentes, e fitas como «Duel» (um dos filmes preferidos de Salva) e «Texas Chainsaw Massacre» são igualmente devoradas por este monstro de filme que, tal como a sua personagem central, selecciona as suas vítimas, desmembrando-as e voltando a coser as partes ao seu gosto e feitio. Mais, Salva parece possuir os
skills
narrativos dos seus mestres, contando a história de forma seca e concisa - a fita nem atinge os 90 minutos de duração e passa num estalar de dedos - e gerindo o suspense de forma sempre surpreendente. E «Jeepers Creepers» mete mesmo muito medo.
[Texto editado a partir do original publicado na revista DVD Review, número 19, Maio de 2003, com o título "Eu, Monstro".]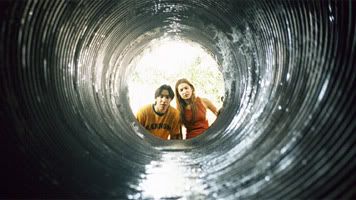 (Edição nacional pela Atalanta Filmes carregada de extras. Continua a ser a melhor opção, mas mesmo assim podem preferir a edição inglesa ou a americana, ambas legendadas em inglês e sensivelmente com o mesmo material extra.)