WERNER HERZOG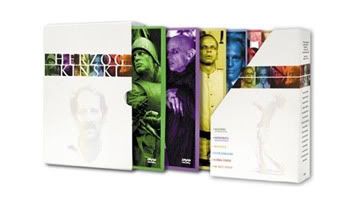 Com o fantástico «Rescue Dawn» ainda aí pelas salas nacionais, não podia haver melhor altura para vir aqui recomendar as duas exemplares edições da Anchor Bay, lançadas em 2005, com a (quase) integral obra de ficção de Werner Herzog.
A primeira caixa (ver
aqui
) reúne seis dvds que apresentam as colaborações do cineasta alemão com Klaus Kinski. A saber: «Aguirre, the Wrath of God» (1972), «Nosferatu» (1979), «Woyzeck» (1979), «Fitzcarraldo» (1982) e «Cobra Verde» (1986). Para terminar, oferece ainda o documentário «My Best Fiend», sobre a conturbada relação entre o realizador e o seu actor de eleição.
O segundo volume (ver
aqui
) acompanha as primeiras obras de Herzog: «Even Dwarfs Started Small» (1970), «Fata Morgana» (1971) «The Enigma of Kaspar Hauser» (1974), «Heart Of Glass» (1976) e «Stroszek».
Todos os filmes surgem legendados em inglês e trazem comentários áudio, entre outros extras. Comprei as minhas caixas no eBay por cerca de 15 libras cada, o que dá uma média de 4 euros por cada Herzog. Uau.
(De notar que a versão
região 1
apresenta ainda os documentários «Little Dieter Needs to Fly» - o tal que serviu de base a «Rescue Dawn» - e «Lessons of Darkness», mas a diferença de preço é francamente desmotivadora.)