OS MELHORES DE 2007: AS VOSSAS ESCOLHAS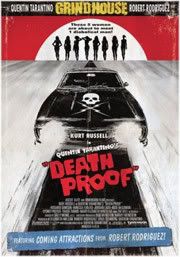 Os melhores:

1º «Deathproof/À Prova de Morte», Quentin Tarantino (92 pontos)
2º «Inland Empire», David Lynch (44)
3º «Eastern Promises/Promessas Perigosas», David Cronenberg (41)
4º «El Laberinto Del Fauno/O Labirinto do Fauno», Guillermo Del Toro (26)
5º «The Fountain/O Último Capítulo», Darren Aronofsky (23)
6º «Planet Terror/Planeta Terror», Robert Rodriguez (19)
7º «Das Leben Der Anderen/As Vidas dos Outros», Florian von Donnersmarck (18)
8º «300», Zack Snyder (17)
9º «Control», Anton Corbijn (16 pontos)
10º «Paranoid Park», Gus Van Sant (16 pontos)
A partir da 10º posição as diferenças entre pontuações foram pouco relevantes, com muitos empates. O 9º e 10º lugar foram desempatados através do número de vezes que foram nomeados. O número de pontos corresponde à soma das posições em que surgiu cada filme em cada votação (10 pontos para o 1º classificado, 8 para o 2º... e por aí fora).
Os piores:

1º «Fantastic Four 2 - Rise of the Silver Surfer», Tim Story
(3 votos)
2º «Gwoemul/A Criatura», Joon-Ho Bong (2 pontos)
A partir daqui a lista seguia apenas com várias referências solitárias...
Recordemos os melhores dos anos anteriores, tal como votado por vocês:
2006

1º «Match Point/Match Point», Woody Allen
2º «A History Of Violence/Uma História de Violência» (David Cronenberg)
3º «The Departed/Entre Inimigos» (Martin Scorcese)
2005

1º «Million Dollar Baby», Clint Eastwood
2º «Oldboy», Park Chan-wook
3º «Sin City», Robert Rodriguez
Este ano participaram apenas 20 pessoas (na verdade, apenas uma pessoa menos do que no ano passado). Há cada vez menos gente nas salas de cinema? As séries de TV estão a vencer o grande ecrã? A mania das listas está a desaparecer? Perguntas, perguntas... Mas nós não desistimos. Para o ano há mais!